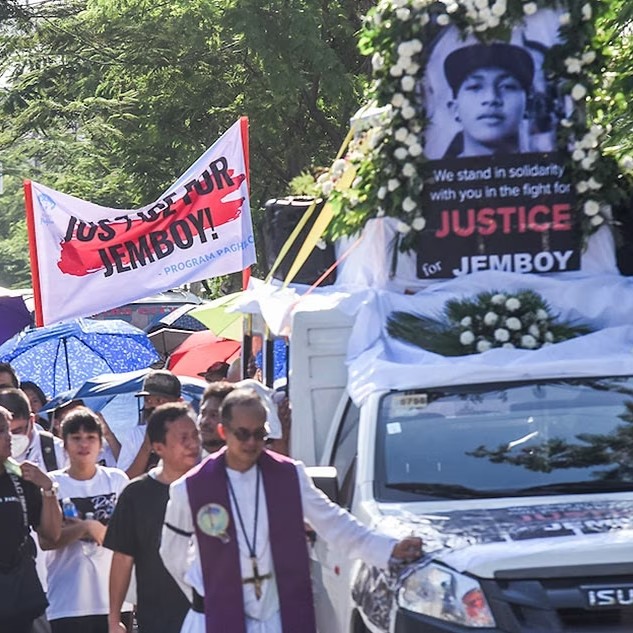 KADAMAY extends its deepest condolences to the family and relatives of Jemboy Baltazar. Alongside the broad urban poor sector, we join those demanding true justice for his untimely death, as well as for other impoverished young victims of police brutality.
Baltazar, a 17-year-old fisherman, was tragically killed by the Navotas police. It has become apparent that he was not the intended target of the police operation. His life was cut short, and he was found dead at a cemetery in La Loma on the anniversary of the killing of Kian Delos Santos, another impoverished youth who was lost due to extrajudicial killings.
Despite the imprisonment of six police officers involved in his death and the removal of the Navotas Police chief from duty, it is imperative that true justice is achieved for Jemboy's grieving family. Those responsible for his premature demise must not escape the law.
The police, who are tasked with upholding the law, are behind the repeated killings of impoverished youth and other underprivileged individuals. It is heartbreaking for the families of the victims to witness these police officers being acquitted and returning to service after committing such atrocities.
The deep-rooted issues of fascism and corruption within our police force are undeniable. It is no surprise that this cycle of impunity continues under the leadership of Marcos Jr. The president, who is known as a "party boy," has shown no sympathy for the bereaved families of Jemboy Baltazar and other impoverished individuals.
As the current regime continues to shield those responsible for the killings under the guise of the "war on drugs" and other extrajudicial killings, it is crucial for the marginalized to unite and amplify their calls for justice for the thousands of poor lives lost due to these injustices.
No more impoverished youth should perish under the state's reign! The masterminds and accomplices of the "war on drugs" and other extrajudicial killings must be held accountable, whether before the national courts or the International Criminal Court!
NO JUSTICE, NO PEACE!