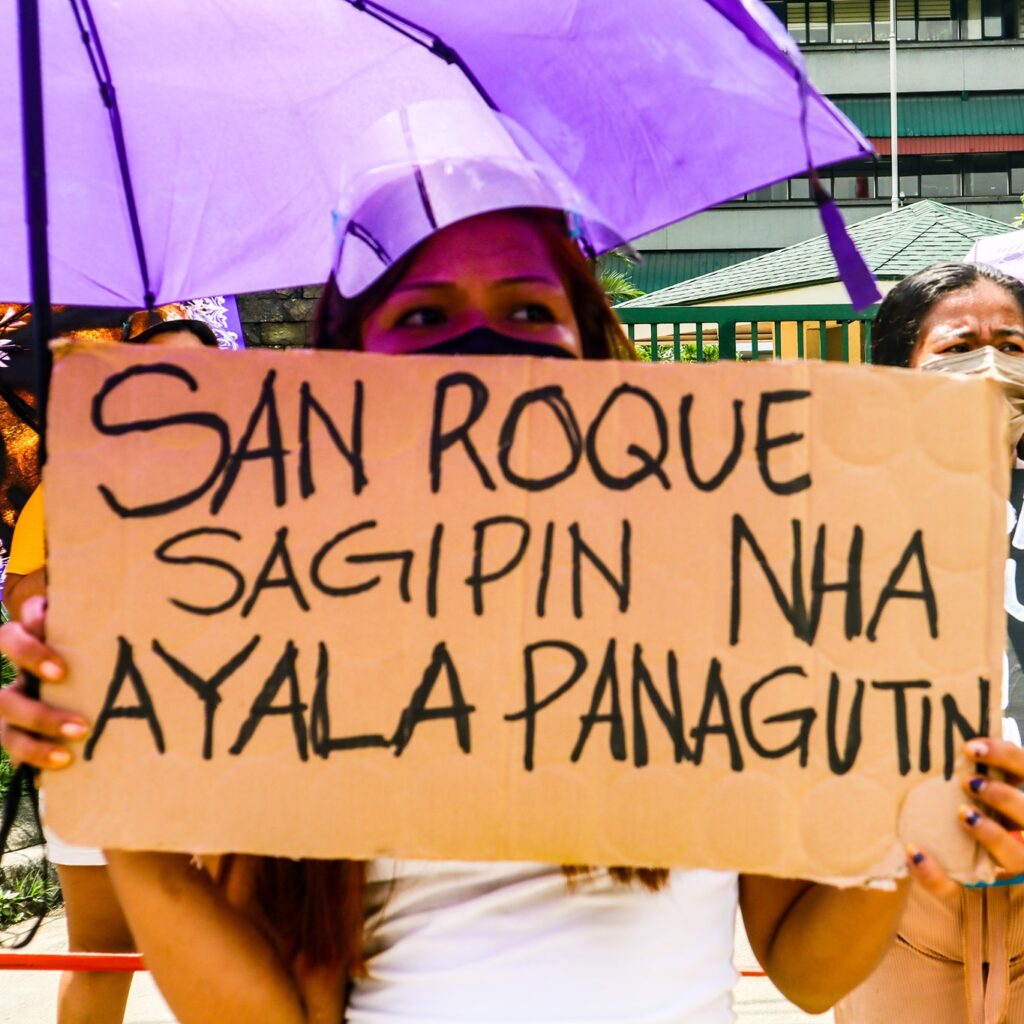 Urban poor group Kadamay condemns the Quezon City Local Housing Board (QC LHB) and the National Housing Authority (NHA) for railroading the demolitions in the urban poor community of Sitio San Roque in Quezon City.
Kadamay San Roque, its local chapter in said community, was not included in the list of organizations invited to a pre-demolition conference (PDC) scheduled for November 9, 2023, at the PCUP office in Quezon City. The group criticized the PDC for catching residents off guard and for being held at an inopportune time, just before the holiday season.
Kadamay San Roque Chairperson Ka Inday Bagasbas comments, "Ito pa talaga pamaskong handog ng gobyerno sa amin. Imbis na unahin ang pagseserbisyo, talagang mas importante pa sa kanila ang kagustuhan ng Ayala."
In 2004, the NHA sold the publicly owned land known as Sitio San Roque situated in North Triangle to the private real estate company Ayala Land Corporation.
Sitio San Roque traces its beginnings as early as the 1940s and has since been fighting forced eviction, displacement, and harassment from the government and from Ayala's private security forces. One such highlight of the fight of Sitio San Roque was when the residents successfully barricaded their community in September 2010 to prevent demolition crews and policemen from demolishing their homes.
"Dekada na ang laban namin dito," said Bagasbas. "Hindi naman kami papayag na basta-basta na lang kaming palalayasin at itatapon sa kung saanmang liblib na lugar nang walang matinong plano mula gobyerno. Kung kinakailangang magbarikada ulit kami, handa kami."
Kadamay San Roque also raises concern on the inaction of the Quezon City government. In 2019, QC Mayor Joy Belmonte formally received the group's Community Development Plan, a community-led public housing development proposal for the residents of Sitio San Roque. As of writing, Mayor Belmonte has yet to put any concrete plans in place for the proper relocation of Sitio San Roque residents.
"Kami na mismo ang trumabaho ng CDP. Nagtulungan kaming mangolekta ng datos, at aralin ang pagdidisenyo. Pero hanggang ngayon, wala pa ring kibo ang pamahalaan," stated Bagasbas. "Ano ang plano niya sa libo-libong taga-QC ang mawawalan ng bahay at hanapbuhay?"
Kadamay San Roque stressed that the struggle of Sitio San Roque against the collusion of the government and big corporations is not entirely a unique one, as land grabbing continues to be a national problem, with commercial and private development projects taking precedence over public housing and other social services.
"Mga opisyales, magserbisyo kayo! Huwag puro negosyo! 'Di kayo nasa pwesto para magpataba ng pitaka niyo!" exclaimed Bagasbas.